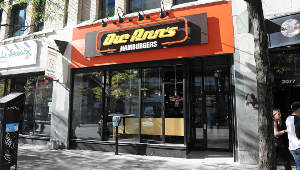 Dic Ann's officially opened its first ever downtown location on St. Catherine Street near Forte Avenue on October 15.
The Montreal hamburger chain was launched by the husband and wife team of Dominic Potenza and Ann Collechia in 1954.
Their family continues the operation and oversees its expansion.
This project is located in a recently rejuvenated area with a lot of traffic from shoppers and businesses, right across the street from LaSalle College, and only blocks away from both Dawson College and Concordia University.
It features:
40 seats (plus 40 seats on terrasse) in a mixture of retro and new decor
LCD panels
10 Local thematic tables:

4 Sports - Impact, Expos, Canadiens, and Alouettes
3 Entertainment - Jazz, Just For Laughs Festivals, Grand Prix
2 Dic Ann's Nostalgia
1 La Place (known local electronic store)
Architecture: Rak&Rak Architects Inc.
Sponsor: Lloyd Brown